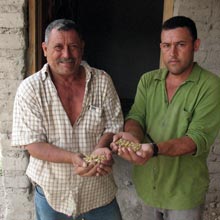 The gravel road quite literally ends when you reach El Carrizal, a village of 1,000 people living in 120 homes in a remote area of Olancho Department in central Honduras.
When you can't drive any further, there's a small elementary school on one side and the brightly painted Christian Reformed Church on the other. This is 'downtown' El Carrizal. 
The Carpenteros and Friends have participated in several projects in El Carrizal, and the local micro-finance cooperative is one of the most successful rural savings and loans co-ops in Honduras, having gone from nothing to being self-sustaining in just 5 years.
Read moreCoffee project is pouring new hope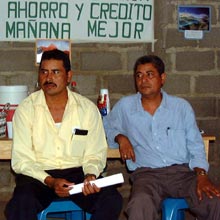 Equipping communities to care for themselves
Hand-outs and charity can create dependency, but the local 'credit union' model instills responsibility and pride of ownership. Credit unions in Central America are totally different than the institutions that North Americans think of when they hear that term. These community credit unions are cooperatives governed by a locally-elected board of directors.
Read moreMicro-credit Cooperatives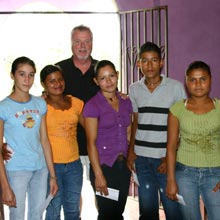 Building a better future through education
One of the most effective ways to ensure a better future for the next generation of Hondurans, and to raise up young leaders, is by making it possible for teenagers to continue with a high school education.
The Carpenteros Education Fund is currently assisting teenagers in four villages - El Carrizal and Guanabano in the District of Olancho, and Islitas and Tiguilotada on Tigre Island  - to obtain a secondary school education.  Funds are generated from the annual Valentine's 'Bistro Carpenteros' and through donations from generous supporters. More than $50,000 was also contributed to the fund in memory of Shirley Vanderlaan, a tireless worker and valuable member of the Carpenteros family, who passed away in November 2007.
Read moreCarpenteros' Education Fund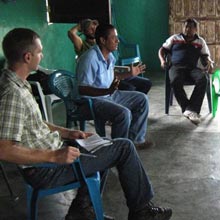 Since 2010, the Carpenteros have been working closely with a group of farmers in rural Olancho Department to export their premium 'direct trade' coffee to Canada. Many of the members of the 'Association of Olancho River Coffee Growers' are members of the El Carrizal Christian Reformed Church, and proceeds from coffee sales in Canada have helped to provide further training and equipment for the continued improvement of their coffee crop.
The Carpenteros are offering roasted coffee beans and medium ground coffee for just $10/pound. Coffee is available by calling Ken at 905-689-5491, or sending email to This email address is being protected from spambots. You need JavaScript enabled to view it.
Read moreCoffee co-op helps unite community