Who are the Carpenteros and Friends?
In November and December of 2001, two groups of volunteers from Calvary Christian Reformed Church of Flamborough went to the isolated community of Pushtan, El Salvador to rebuild homes destroyed by earthquakes.

After living and working in Pushtan, these 'Carpenteros' realized it was not enough to just rebuild some homes and then return to their comfortable lives in Canada. Much more needed to be done to meet daily needs and break the cycle of poverty.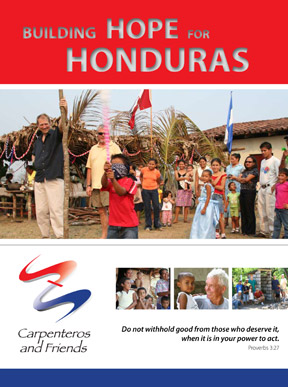 In partnership with World Renew, the Carpenteros committed to support up to 60 community credit cooperatives throughout Honduras and El Salvador, and over the next few years the focus of the work shifted toward the needs of communities in Honduras.

Since those original work teams went to Pushtan in 2001, the Carpenteros have continued to send one or two teams per year to help build adult training centres, and to support self-sustaining small businesses through the local community credit cooperatives . The main fund-raising events are the Building Hope for Honduras Dinner held each September, and the Valentine's 'Bistro Carpenteros'.
If you would like to learn more about the opportunity to assist with community development in remote areas of Honduras, please write to:

Carpenteros and Friends
c/o Calvary Christian Reformed Church
265 Middletown Road, R.R. 1, Dundas, Ontario
L9H 5E1

Or you can contact us by email: This email address is being protected from spambots. You need JavaScript enabled to view it.
CLICK HERE TO DOWNLOAD OUR BROCHURE