How much of a difference can ONE DAY make?
That's up to YOU!
Change is coming slowly to Honduras.  In many communities the average income is still as little as one or two dollars per day. No matter how hard these people work, simply surviving is a constant struggle.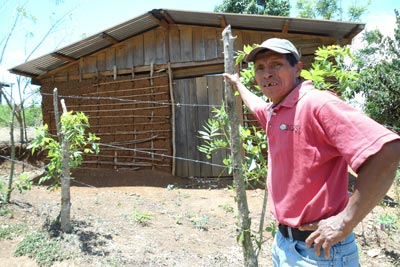 However, even the poorest of the poor aspire to provide a better future for their children and grandchildren. You can help make that goal possible by improving their access to safe drinking water, latrines, first aid supplies and basic sanitary improvements to their very modest homes.
The ONE DAY CHALLENGE is a very simple, but effective, concept – by dedicating one day of your income, you can help to bring new hope and transformation to Hondurans who earn as little as a dollar or two per day. And every penny you give will go directly to helping those who need it most, and in a way that brings about lasting improvement.
Each year the ONE DAY CHALLENGE campaign focuses on a different Honduran community -- the community that our Honduran partners have told us is in tremendous need, but also where the local residents are willing and eager to participate in building the foundation for a better future.
Communities that have been supported through the ONE DAY CHALLENGE are:
2019 - Las Flores
Las Flores is a rural community of just 61 homes, in the mountains to the east of Olanchito, in northern Honduras.  For the past 27 years, residents of Las Flores have relied upon a water system that they constructed, consisting of a small dam and a network of hoses to bring water into the community.  But this structure is suffering from age, and the community's top priority is to install a 10,000 gallon water tank and install 700m of trenched pipe.  Given that only five of the 61 homes have a proper latrine, the 2019 One Day Challenge also hopes to provide a latrine to those families in the most dire circumstances.
---
2018 - La Cantera
Having previously supported this community through the 2014 One Day Challenge, the 2018 campaign provided latrines, pilas, roof repairs, and wall repairs for 30 of the neediest families, as well as a protective retaining wall in a part of the community that is prone to landslides.   La Cantera is a neighbourhood of Flor de Campo, in the Honduran capital of Tegucigalpa.
---
2017 - San Antonio
San Antonio is a remote village of 720 inhabitants in the mountains of northern Olancho.  Most families survive through subsistence farming and paid work is only available for three months out of the year.  Average per capita income is $1.50 per day.  Through the 2017 One Day Challenge campaign, the goal is to provide 30 pilas (water storage tanks), 20 latrines, 30 concrete floors, and 20 plaster walls.
---
2016 - Villanueva
Villanueva is a severely impoverished neighbourhood in the eastern portion of Tegucigalpa, where the poorest families have assembled make-shift homes along slopes or flood-prone land.  Through your support, 24 of the neediest families with receive a much needed improvement to their home, such as a proper latrine, a pila for water storage, a concrete floor for sanitation, or stable walls to improve safety.
---
2015 - Guanacaste
Guanacaste is an isolated farming village of 98 people (including 38 children and teenagers) near the Olancho/Yoro border.  Average income here is $2/day. Through the generous support of the 2015 One Day Challenge campaign, all of the homes will be receiving a much-needed pila and concrete floor, and the small one-room school will be repaired and expanded to allow for all children to attend classes.
---
2014 - La Cantera
La Cantera is a neighbourhood of Flor de Campo, near the Honduran capital of Tegucigalpa.  Many of the 200 families who live here have been evicted as squatters from other communities. Many homes are constructed of scrap wood, plastic or metal.  Women earn a living by cooking and selling tortillas; men collect scraps from along the roadway or at the landfill site and sell these items to recycling companies.  Funds from the One Day Challenge helped to construct pilas, latrines and concrete floors, as well as shelter for the outdoor kitchens.  Residents managed to stretch the funds beyond what was originally budgeted, and as a result they were also able to construct concrete steps on a section of hazardous hillside that several elderly people needed to climb in order to reach their homes.
---
2013 - Playa Negra
Playa Negra, on the southern end of Tigre Island, is a community of 160 families who are dependent upon fishing and limited farming.  One Day Challenge funds helped to provide latrines, pilas and floors to those families that were in the greatest need.
---
2012 - Gracias Adios
Gracias Adios is an isolated community in the mountains of north-central Honduras.  Those who moved here were promised land after having been evicted from their previous homes to make way for expansion of corporate fruit-growing plantations.  But soon after moving, the residents of Gracias Adios were forgotten.  Support through the One Day Challenge helped to provide latrines and pilas.
---
2011 - La Barranquilla and La Libertad 2
La Barranquilla is a community of 100 families in southern Honduras.  Support for the One Day Challenge made it possible to provide concrete floors as well as improvements to roofs. Because of the magnitude of the needs here, The Carpenteros also sent work teams to La Barranquilla in 2012, 2013 and 2014.
La Libertad 2 is a squatter neighbourhood of 120 families in the Honduran capital city of Tegucigalpa.  Funds helped to provide for concrete floors.  A Carpenteros' youth team also served here over the Christmas break in 2011/12.
Your support is always appreciated
If you or your church or business would like to support the ONE DAY CHALLENGE campaign, please make cheques payable to 'Carpenteros and Friends' and note 'One Day Challenge' on the memo line. Please provide your full name and address for tax receipt purposes, as well as your email address if you would like to receive a project update.
Cheques can be sent to:
Carpenteros and Friends
c/o Calvary Christian Reformed Church
265 Middletown Road, R.R. 1, Dundas, Ontario
L9H 5E1
If you, your company, organization or church group would like to explore additional ways to assist the people of Honduras through the One Day Challenge, please email This email address is being protected from spambots. You need JavaScript enabled to view it. or call Ken at 905-689-5491.